The Pacific Coast Highway is one of the most iconic roads in the entire United States. It has everything from stunning ocean views, to waterfalls, to castles. Here are some must-see stops on your California coast road trip.
San Francisco
San Francisco is a great place to begin your California Coast road trip. Make sure to drive over the Golden Gate Bridge. It is also worth visiting Fisherman's Wharf for some great views of the Bay and obviously try a Ghirardelli sundae. If you have time, make sure to visit Alcatraz Island for a tour of the famous former prison.
Half Moon Bay
After San Francisco, get in the car and drive about 45 minutes south on the PCH to Half Moon Bay. This is a quaint sea village that is a must-see. It has lovely beaches and some stunning coastal architecture.
Monterey and Carmel-By-The-Sea
After Half Moon Bay, drive south another 1 hour and 45 minutes to Monterey and Carmel-By-The-Sea. These neighboring seaside towns are definitely worth the visit. They have great bed and breakfasts that make the perfect spot to spend a night.
Monterey has the famous Monterey Bay Aquarium that is a great place to see some sea life. Also, these towns offer some great whale watching tours that are not to be missed. Make sure you grab a bowl of chowder at the Old Fisherman's Wharf.
Big Sur
The next stop on your California Coast road trip is Big Sur. It is located less than an hour south of Monterey. It is a quiet place with not much sign of civilization. However, the views of Big Sur are some of the most spectacular you will ever see. Since Big Sur does not have many hotels or restaurants, plan on only spending about a half of day there.
Solvang
While this city is not technically on the coast, it is worth going inland a few miles to experience this quaint Danish village. It has authentic Danish food and great Danish pastries. Make sure you look at the historic windmills, the Round Tower, and the Giant Red Clog.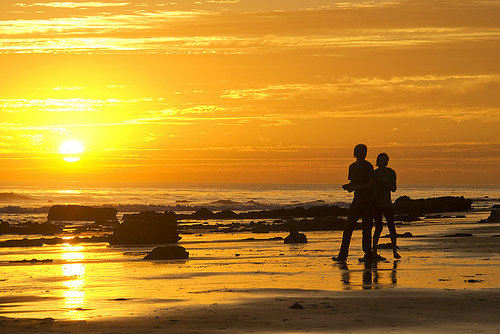 Santa Barbara
Santa Barbara has a rich Spanish heritage with some of the best food in California. You will love the Mediterranean feeling downtown that has white buildings with red roofs.
Malibu
Malibu is home to wide, sandy beaches that are home to some of the hottest celebrities. If you can, take a surf lesson and experience the ocean like the locals. While in Malibu, definitely take the time to visit the Getty Villa. It has some beautiful art and stunning architecture.
Santa Monica
Make sure to give yourself plenty of time in the Santa Monica/Los Angeles area. You will want to hit some of the top restaurants and museums in the area. Take an afternoon to visit the Santa Monica Boardwalk and ride the Ferris wheel and roller coaster.
If you like you can continue down to Orange County and all the way to San Diego to finish off your road trip. Either way, this vacation will be one to remember.
Photo by M McBey

Photo by Damian Gadal